Hot Finished Seamless Steel Pipe
Hot Finished Seamless Steel Pipe
WL, HANQI

China

7-30 days

2000 tons per month
Hanqi supplies Hot finished seamless steel pipe for clients.
The standard and steel grades of hot finished seamless steel pipe are ASTM A106 Gr.A/B/C, ASTM A53 Gr.A/B, API 5L PSL1&PSL2 Gr.B/X42/X46/X52/X56/X60/X70, ASTM A333 Gr.6, ASTM A192, ASTM A210 Gr.A1/C, JIS G3454 STPG370, JIS G3454 STPG410, JIS G3452 SGP and so on.
Hot finished seamless steel pipe
Shanghai Hanqi Metallic Material Co., Ltd as one of the largest steel pipe and pipe fittings suppliers in China. Our company specializes in manufacturing various steel pipe and pipe fittings.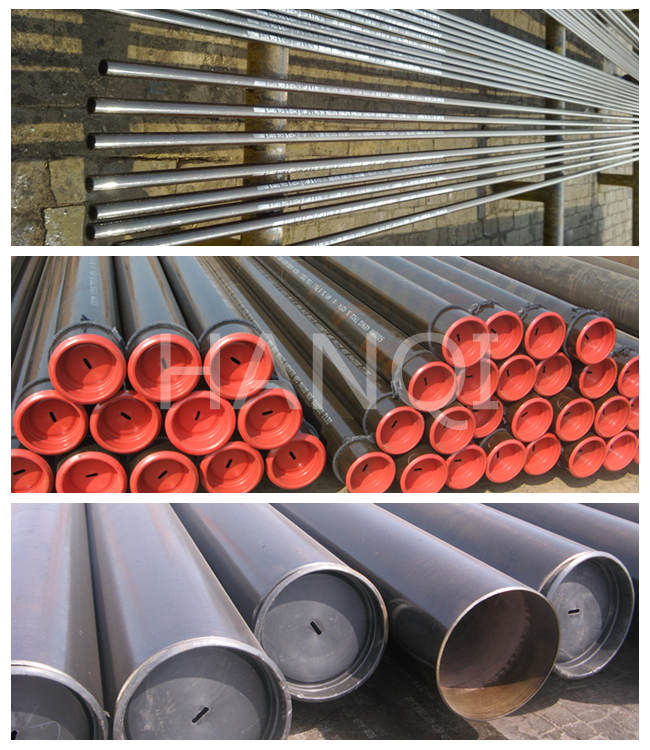 Some detailed descriptions about our products are as follow.
1) steel pipe: Seamless pipes, ERW steel pipe, stainless steel pipe, carbon steel pipe
2) pipe fittings: Elbow, Reducer, Tee, Pipe Cap, Flange of stainless steel or carbon steel.
3)Wallthickness:SCH20/SCH40/SCH STD/SCH 60/SCH80/SCH120/SCH XS/SCH XXS/SCH160
4) Standard: ASTM, API, GB, JIS, EN, DIN, GOST
5) Material: Carbon steel
6) Size: 1/2"-48"
7) Surface treatment: Transparent oil, rust-proof black oil or hot galvanized
8) Price: Very competitive
9) Payment: T/T, L/C sight, Western Union
10) Special design available
Hoping can establish a good friendship and business relations between us in near future. Your early reply are highly appreciated!
Technical Parameters of Hot Finished Seamless Steel Pipe
A53: Chemical components and mechanical property
Stan

dard

Trade

mark

Chemical components

Mechanical property

C

Si

Mn

P,S

Cu

Ni

Mo

Cr

V

Tensile

Strength

Yield

Strength

Elongation

ASTM

A53

A

≤0.25

/

≤0.92

≤0.05

≤0.06

≤0.40

≤0.15

≤0.40

≤0.08

≥330

≥205

≥29.5

B

≤0.30

/

≤1.2

≤0.05

≤0.06

≤0.40

≤0.15

≤0.40

≤0.08

≥415

≥240

≥29.5
A106: Chemical components and mechanical property
Standard

Trade mark

Chemical components

Mechanical property

C

Si

Mn

P,S

Cu

Ni

Mo

Cr

V

Tensile Strength

Yield

Strength

Elongation

ASTM

A106

B

≤0.30

≥0.10

0.29-1.06

≤0.035

≤0.40

≤0.40

≤0.15

≤0.40

≤0.08

≥415

≥240

≥30

C

≤0.35

≥0.10

0.29-1.06

≤0.035

≤0.40

≤0.40

≤0.15

≤0.40

≤0.08

≥485

≥275

≥30
API 5L PSL1: Chemical components and mechanical property
Class

Chemical components

Mechanical property

C(Max)

Mn(Max)

P(Max)

S(Max)

Tensile Strength(Min)

Yield Strength(Min)

A25

CL I

0.21

0.60

0.030

0.030

45.000

310

25.000

172

CL II

0.21

0.60

0.030

0.030

A

0.22

0.90

0.030

0.030

48.000

331

30.000

207

B

0.28

1.20

0.030

0.030

60.000

414

35.000

241

X42

0.28

1.30

0.030

0.030

60.000

414

42.000

290

X46

0.28

1.40

0.030

0.030

63.000

434

46.000

317

X52

0.28

1.40

0.030

0.030

66.000

455

52.000

359

X56

0.28

1.40

0.030

0.030

71.000

490

56.000

386

X60

0.28

1.40

0.030

0.030

75.000

517

60.000

414

X65

0.28

1.40

0.030

0.030

77.000

531

65.000

448

X70

0.28

1.40

0.030

0.030

82.000

565

70.000

483
Our catalog of hot finished seamless steel pipe

item

material

standard

specification

(OD*WT)mm

usage

alloy pipe

Cr5Mo. 15CrMo

13CrMo44

12Cr1MoV P22

T91,P91,P9,

T9 Wb36

GB5310-95 GB9948-88

ASTMA335/A335M

ASTMA213/213M

DIN17175-79

JISG3467-88

JISG3458-88

16-824*2-100

The seamless steal pipes

features resistance to

high pressure, high/low temperature

and corrosion and is used in

the industries of petroleum, chemical

engineering and. Electric power

as well as boiler

High-pressure

boiler pipe

20G,A106,

ST 45

GB5310-95

ASTM A 106-99

DIN17175-79

14-630*2-80

Temperature-resistant

seamless steel pipe

far high-pressure boiler

Seamless pipes

for petroleum

20, 12CrMo,

15CrMo

GB9948-88

10-530*1.5-36

Boiler pipes for refinery,

heat-exchanging pipes,

seamless steel pipes for pipeline

High-pressure

Seamless pipes

for fertilizer

making equipment

20, 16Mn,

Q345

GB6479-2000

18-530*3-40

Fertilizer making

equipment and pipe line

Low and medium-

pressure boiled pipe

10,20

GB3087-1999

10-530*2-40

Over-heat pipe for low

and medium pressure boiler,

boiling water pipe, locomotive

smoke pipe(big and small)

Fluid pipe

20, Q345

GB/T8163-1999

8-630*1.0-40

Fluid feeding

Structural pipe

20, Q345 10,

20,35,45,

16Mn,Q345B

GB/T8162-1999

6-1020*1.5-100

For common structure

Line pipe

Gr.B

API

60-630*1.5-40

Carrying gas, water or oil

in the industries of

petroleum and natural gas

Hydraulic

prop pipe

27SiMn

GB/T17396-1998

70-377*9-40

Hydraulic support and prop
Small diameter hot finished seamless steel pipe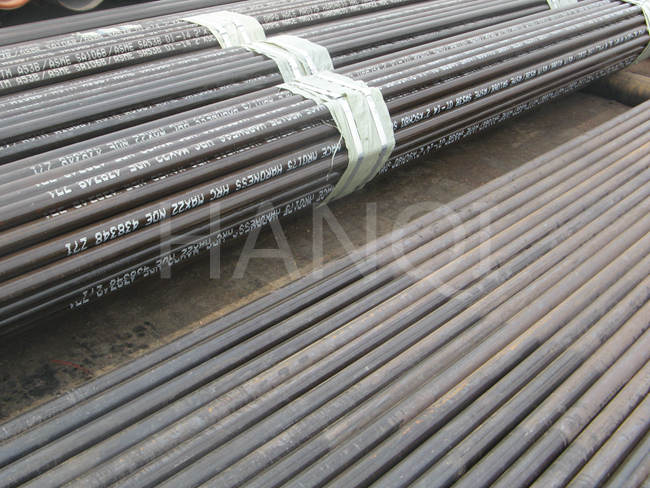 Large diameter hot finished seamless steel pipe